the reason to post numbers is to avoid accounting issues in the future. If you do not want me to post numbers for you specifically, send me an email (individually) and and also mention it when you send the check in. Since these checks are drawn to an individual who is serving as a conduit to divert it to a larger cause, it is important that we maintain transparency.
Regarding contributing larger and smaller amounts, we have had varying responses (all good) for different drives in the past. Folks have contributed where they have the most attachment. (e.g., students who felt a special attachment to Chellapillai sir help champion that drive). It is typical in most academic settings when raising funds from alumni to have large variations. Variations are a function of many things (incl. if you hit the jackpot betting in vegas last night :)). Please contribute what you can when you can. If you have ideas of contributing in kind, let us talk about (e.g., hosting a web career counselling session)
Ideally, I would like to set this up as a foundation for all future years but I do not think we will be able to hit that without one or two large contributions to kick us off. If you are interested in thinking about it, let me kow and we can have a dialogue separately and come back to the group with a proposal
The smallest good deed is better than the grandest good intention. Keep going! This contribution is "NOT" a direct measurement of the love to our teachers. Just do it! I can't stress enough on that!
Mrs. Alice, the tamil teacher at RSK Primary School B sector passed away a couple of days back. She was to retire this year.In the last conversation i had with her about 6 months back, i said i was feeling happy that she was going to teach my daughter also next year.That is when she told me that she was retiring this year.My condolences to her son Babu who also happened to be my classmate
Dear rskites..
Its that time of the year again. The rain gently spatters to the ground. The sun rises to kiss the dew and melt it in its embrace. The birds chirrup a song of joyous madness. And OSCAR happens.
The bugle call. Its time to return to base. To remember, to cherish and to celebrate. Time to take that long-yearned walk down memory lane. To rediscover the joy of school. To relive those unforgettable moments. To recollect those golden memories. To be a kid again..
Meet the teachers. Rex and Lloyd. Jayshree and the Premas. Ganesan and Britto. Rajkumar and Rajagopal. Arumugam and Felicia. And everyone who packed a punch.Catch up. Compare. Gossip. Laugh till it hurts. Scream till you're sore. Bask in it all till you say 'no more'.
Its that time of the year again. OSACAR's happening. On comin Dec 1 & 2. do join plz,without which the show will incomplete ! Manoj
Joint Secretary , OSA.
mano_trader2k(at)yahoo.com

Dear rskites..
A Nation's strength lies in its youth...
By Bharat's heros bold...
Yes??? Well, they still remain the lines of the RSK School song! At OSCAR, we will be releasing a recorded version of the School Song! And it would definitely be a treat to hear! Be there at OSCAR to know more...
Also, find attached the new logo of the School...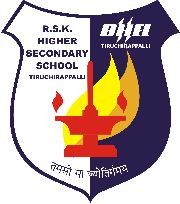 Thanks and Regards,
Vijay Premkumar (Class of 96)
vijay_premkumar(at)yahoo.com
Please replace (at) with @ when e-mailing

You would be glad to know that late afternoon of Monday,the 15th May 2006, Shri.P.Varadarajan assumed charge as Principal of RSK Hr.Sec.School.Armed with a Master's Degree in English and a scholar in English,Sanskrit and Tamil ( not to mention a near mother tongue ability in Hindi), Shri.Varadarajan carries a rich experience of 20 years in K-12 education and has headed some of the best CBSE schools in central, eastern and western parts of India.
We at GIEF seek the support, suggestions and co-operation of the alumni.
Director -Academic,GIEF.
Our Brothers and Sisters are making a move from the School on 10th April and the new management takes over on 11th April, 2006. Those who are in Trichy can meet Brothers and Sisters and show your love at the time of their departure.
BHEL has entusted the managemnet of RSK to Global Indian Education Foundation (GIEF)- a singapore based non profit education foundation which has close ties with Bharatiya Vidya Bhavan. The GIEF runs leading international schools in Singapore & Malaysia, also runs four CBSE schools and providing management services to 10 other schools in India.
There will be no change in the fee structure and teaching staff opting to continue under the new management will enjoy the existing facilities. However, the GIEF will appoint a Principal of its choice. Montfort Brothers will hand over the responsibility at the end of the current academic year.
Offer of a full scholarship (inclusive of fees, boarding and lodging) to one student of Standard X every year for study in Singapore up to Standard XII.

A BHEL release said the appointment of the GIEF was made as per the recommendation made by a committee constituted by six-member committee comprised three senior teachers, A. Rajagopal, Judy Sebastian, and Daphne Freeman, the secretary of the Parent-Teachers' Association, S. Shivashankar, an Advocate, and two members of the BES, R. Shankararaman, Senior DGM, and Prakash Achan, AGM.

Read More in The Hindu Article
Read More in The Indian Express Article
Bhavan's Global Indian International School - Singapore run by GIEF
GIEF has close ties with Bharatiya Vidya Bhavan
---
Montfort brothers are terminating the contract with BHEL
---
More Information about Montfort brothers are terminating the contract with BHEL
Date: Tue 03 Jan 2006
Subject: Montfort brothers are terminating the contract with BHEL

Montfort brothers are terminating the contract with BHEL from this academic year (2006). They have sent the letter according to the contract serving 3 months notice. They are opening a school in Kattur (CBSE affiliated)from grade 1 to grade 5. RSK school will continue with a different management.
News from BHEL Management, Parent -Teachers Association

More Information about Montfort brothers are terminating the contract with BHEL
Sincerely
Swathika (swa_mirra(at)yahoo.com)
Please replace (at) with @ when e-mailing

---
October 08, 2005
Subject: RSK Reunion Jan 15th 2006
Dear Alumni of RSK,

I am Aishwarya of 2004 batch. I am very happy to inform you that we have planned for the Reunion on January 15th 2006 which is the next day of pongal and a sunday in our school campus. Please be present for the function with the registration fee of Rs.50/-. The registration starts at 1:30 PM. All are invited. Please forward this invitation to as many rskites as possible. Looking forward to meet you. Thanking you.

Regards,
Aishwarya (aishragh_psn(at)yahoo.com)
Please replace (at) with @ when e-mailing
---
October 08, 2005
Subject: Collection of funds for Mr. Chellapillai

Hi! friends,

Today I have made arrangements to transfer Rs 37,800/- to Chellapillai Sir.
I have some funds in clearing and hope to raise another twenty five thousand rupees which will be sent to Chellapillai Sir before the 15th of this month. If there are other alumni who have missed out, you can still send your contributions, latest by the 10th of November.

Yesterday Chellapillai sir called me up and asked me to thank each one of you for your support. He was able to speak well and is on his road to recovery. He became quite emotional and kept expressing his gratitude to each of you. If any of you would like to speak to him, his telephone number is 94435 78099.

As alumni of a wonderful institution, I am confident that we will continue to come together and express our gratitude and support to RSK and the faculty who moulded us into responsible citizens.

Regards

P.Sivakumar
sivakumar.prithiviraj(at)gmail.com
Please replace (at) with @ when e-mailing
---
Hello Ganapathy,
Today the amount is transferred into my wife account. I'll inform this to Sellapillai sir. Sellapillai sir asked me to convey his thanks to all of you.

Deen
(Deen is ChellaPillai Sir's son-in-law)
---
Greetings all,

Yesterday, thanks to contributions of many alumni, $1972.36 (minus a transfer fee of $16) was transferred to ChellaPillai Sir's daughter's bank account. I have not spoken to ChellaPillai Sir yet but I am pretty sure that he will have a good diwali, a little less worried about his health and his family's future. Perhaps, our small contribution will speed up his recovery!!

We have done well as a cohesive force. Hope, we will join hands again in the future for another worthy cause.
Happy Diwali to all!!

Regards
Ganapathy.
ganapathysankar(at)hotmail.com. Please replace (at) with @ when e-mailing
---
Dear friends,
While our friends abroad have started their collection towards the medical treatment for Mr. Chellapillai in full swing, it is quite sad to note that there has not been much activity at the local level. I am sure that all of us remember how Mr. Chellapillai made the Tamil classes entertaining and fun. He joined school when I was in Class 8. After being exposed to the traditional Tamil pundits, his arrival was a whiff of fresh air. He made both prose and poetry very interesting. Outside the class, he was friendly and fun loving and would take part in all our activities. His take off on some of the other teachers would send us to raptures.

I have so far received a commitment of Rs 13000/- from the local alumni. I am sure that we can all do much better. Please contribute whatever you can and I am sure it will be a small way of expressing our thanks to him. Please be assured that all your payments will be properly accounted and handed over to Mr. Chellapillai. I will put up the list of donors on this forum once the payments start flowing.

With best wishes and regards

P.Sivakumar
sivakumar.prithiviraj(at)gmail.com
Please replace (at) with @ when e-mailing
---
September 22, 2005
Subject: Collection of funds for Mr. Chellapillai

Hi! guys,

Now that Ganapathy has taken the initiative to collect the overseas funds for Mr. Chellapillai, someone needs to do the same in India. If none in Trichy is willing to take up the responsibility, I volunteer to take charge of collecting the local funds and handing over the same to Mr. Chellapillai's family.

For guys who don't know me, I will give you a brief.
Was at RSK from KG II to 12th Standard (passed out in 1980), B.Tech(Mech) from IITM, worked with L&T for 1 year, PGDM from IIMC, worked with NIIT for 2 years, TCS for 2 years, since 1992 running my own computer firm at Tuticorin.

Let's act fast and ensure that we provide timely help to Mr. Chellapillai.

Regarding the medical insurance scheme for the teacher's and their families, a group insurance policy would be ideal. Any old student working with ICICI Prudential could work out a good deal.

Regards

P.Sivakumar
sivakumar.prithiviraj(at)gmail.com
Please replace (at) with @ when e-mailing
---
Subject: ChellaPillai Sir - status report and fund collection
September 18, 2005

Dear Alumni,

My sister, Jayanthi and her husband Jayaram, visited ChellaPillai Sir at his residence last Sunday. Here is what they have heard and observed :

1) At the current moment, ChellaPillai Sir is at a significantly reduced capacity of his original self. He is not able to walk properly (drags himself around) or sit properly. One of his eyes appears to be not functioning; he is unable to read or recognize colours or dial on the telephone.

2) Thanks to the support of his family and the powers beyond us, ChellaPillai Sir is showing good recovery since his accident in May and subsequent coma in June/July. He was able to recognize my sister (who passed out in 1983. He was also able to recollect her son and daughter who are currently schooling in RSK) and is doing so of others. His memory is still a bit weak and it appears that he may be unable to fully retain what is being said and what he is saying.

3) A month or so prior to the accident, ChellaPillai Sir had conducted the marriage of his daughter (we all understand what that means). His son is in college. His wife works in RMS (railways mail system). In the normal course of life, ChellaPillai Sir would have accepted employment from a local school to help manage their needs. The turn of events, however, has forced the family to secure loans for his treatment and hence bear additional burden.

I hope, this helps us comprehend the situation. I am positive that the family needs some help. Let me know if you have any concerns.

Here are my recommendations:
1) Alumni in the US who would like to contribute, please send checks to my name (Ganapathy Sankar) Please send in your contributions by Oct 14th.

2) I will add up the contributions and wire the money to ChellaPillai Sir's account on Oct 15th.

Lets help in some small way and see how it goes. My sister will be talking to the family on a regular basis. In my opinion, it would be very honorable of us if we do not ask ChellaPillai Sir's family how they spent the money.

Looking forward to your contributions,
Ganapathy Sankar
ganapathysankar (at) hotmail.com
Please replace (at) with @ when e-mailing

---
Subject: After Candella 2005 and news about Mr Chellapillai
August 15, 2005

Hi All,

I was at the OSA-organised Candella 2005 at School. A wonderful event that showcased the talent of our students from Classes VI to XII, Candella was a grand success. Despite the fact that the 'creamy' layer of those participating in Culturals were away participating (and losing, incidentally) at Campofez, the guys who were left back at School to participate in Candella put up a great show, in fact even eclipsing some of the current reigning culturals guys at School! It was an event that was wonderfully managed and planned. And all the events held were really innovative, especially a couple of events like 'Ideas' - where teams were asked to come up with a presentation on some social awareness topics. The other was an event caleld Onstage-Extravaganza, which combined everything from dramatics to individual talents being displayed. At the end, Montfort House won the Overall Championship trophy.

An electtion for the new office bearers of OSA was held after the function. I guess the OSA would send a formal note on the same.

What I wanted to specifically point out in this mail is one news that disturbed me. Mr Chellapillai, from the Tamil Department retired last year. He was riding a bike one evening some 2 or 3 months back when he was hit from the rear by a speeding lorry. Sir lay unconscious and unattended for nearly 2 hours on the side of the road before help reached him. He slipped into a coma, and did not regain consciousness for nearly 2 months. He regained consciousness about a couple of weeks back, but has no memory of the past, and does not remember much. Mr Rajkumar was trying to help him recollect Mrs Ammukutty, me and a few other teachers. But, he could not. Also, I heard that his family has spent his entire life savings and his pension money and gratuity and retirement benefits on the treatment. This is a very sad thing indeed to happen. I guess we should try to do something about it. Suggestions are welcome.

Thanks and Regards,
Vijay
(Class of 96)

Vijay Premkumar
vijay_premkumar(at)yahoo.com
Please replace (at) with @ when e-mailing
---
August 15, 2005

Hi,

The Teachers' Emergency Fund discussion that was going on sometime back had to be shelved because of a number of reasons, including lack of enough support and encouragement from within the alumni itself. I guess what you meant was the discussions we were having after the problem with Mr Veeraiyyan's wife. The point is, we need to have a proper support from both the School management as well as from the majority in the alumni network. The last time we had the discussions with school, when it was Bro Berchmans who was Princi, we were asked how we could handle the situation where it is not a teacher who is directly impacted, but someone close to him/her.
I was also speaking with Bro Mariannan, the Principal, when he told me that the School itself was trying to get some funds raised. This could be by means of an amount to be collected from the students as well as donations from well-meaning alumni. A concrete plan is not ready yet.
In the meantime, we need to work something out for this particular case with Chellapillai Sir. The Class Of 96 (my batch) plans to collect some amount from the batch members to be paid to Sir.

Thanks and Regards,
Vijay (Class of 96)
vijay_premkumar(at)yahoo.com
Please replace (at) with @ when e-mailing
---
August 15, 2005

Dear All,
It is sad to know that our dear Tamil teacher Mr.Chellapillai has been critically injured,presently in a coma stage and his family has exhausted all available funds including his retirement benefits(I believe he retired last year).
There has been some debate going on in emails as to the nature of help that the alumni can probably think of not only for him but in general all the faculty. One small suggestion,if permitted,from my side. We have an estimated 3500 alumni across the world.A corpus fund can be formed in the name of Teachers and a specified sum of money can be allotted to be given to each retiring teacher / retired teacher. Say,for example if all put together we garner about 50 lakhs(This is not a big amount considering 3500 alumni and many NRIs) per annum the interest factor would itself amount to close to 4 lakhs and this amount can be given to 2 teachers who would retire.We should also help the teachers who have already retired.They should be allowed to withdraw this amount as and when they require after they are eligible if need be with interest also.This would add a little bit of confidence to their lives,the people who really mattered to us to bring us all to the present standards of life. Alternatively,they can decide whether they want the amount as a lumpsum or as a monthly pension and I feel that the latter is always better.

The corpus fund can be increased year after year and so can the benefits to the teachers.Forming a Fund is an easy task and implementing is also easy.Let us not get into complexities of speaking to Present or Past Princis and dilute the spirit of the issue as i feel that no consultation or permission is required in this regard.
A generous contribution,amount left to the discretion of each alumni,whether NRI or not is immaterial would go a long way. Request one and all to deliberate on this issue and make it your success.

regards,
Srinivasan
1983 Batch
anusriniabhi2001(at)yahoo.co.in

---
August 15, 2005

hi all,
what worked in the past with Veeraiyan sir in a similar situation in the past was one point of contact in the US and one point of contact in India coordinating collection of funds and channelling it. This needs to be followed with a couple of timely emails on how Dr. Chellapillai is progressing post treatment.

Ganapathy, can you be the point of contact in the US? Any takers in India? A fairly recent graduate based in Trichy would be ideal.

Rajesh
Class of 1991
rajesh_s(at)sloan.mit.edu

---
Subject: First Prize in district level dance competition
September 30, 2005

G.Anupriya who is studying in RSK' E' sector got the first prize in district level dance competition. Picture below shows her getting her prize from Trichy collector.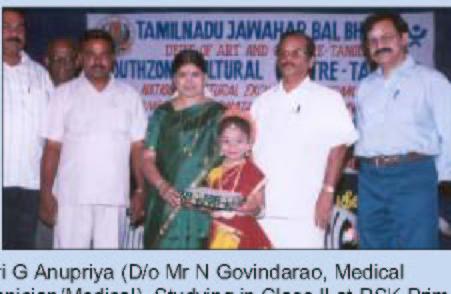 ---
Subject: Old Students Association - CANDELA 2005
July 24, 2005

CANDELA 2005 is scheduled for August 12 and 13. Friday and Saturday.

The wait is over FIESTA is back again as 'CANDELA 05',so are the challenges and thrills that have come to be associated with CANDELA 05.

CANDELA 05 will be an opportunity for the RSK ALUMNI and its members to interact with the upcoming generation of proffessionals. We invite one and all to come experience the passion of CANDELA 05.We look forward to your involvement into making CANDELA 05 the next BIG THING!!

This event is schelduled for the 12th and 13th of August 2005 and the CANDELA 05 team makes an earnest appeal to kindly join us in making it a grand show. It would really nice to meet you all under our BANYAN tree and cherish the indelible moments at the place where we all started!!

"This world thrives on changes,its only source of constancy.But what is constant in this change is improvment,with each thinker building upon the ideas of his predecessors.The past is what he learns from his guide,what teaches him to avoid mistakes previously made.The future is what he works towards,what excites him and drives him to conjure up ingenious solutions for the problems facing him."

More Soon.....

CANDELA 05 TEAM
rskosa(at)yahoo.com
Please replace (at) with @ when e-mailing
---
Subject: Old Students Association
July 15, 2004

OSCAR 2004 is scheduled for August 13 and 14. Friday and Saturday.

A Reunion is also planned for August 14, once the OSCAR event is done. A substantial amount of money has been collected, largely through the Old Students (Thanks to many Old Students from the Class of 96 and from RSKites working in Infosys, amidst many others), and a few corporate sponsorships. roughly, Old Students from the Class of 96 and from Infosys have been together able to contribute Rs 17,000 towards this year's OSCAR 2004. This is also a request to the OSA to have a strict maintenance of accounts. OSA, for its plans going forward, would certainly need more such patrons.
OSCAR 2004 has been redefined to move away from a Cultural Competition to a confluence of events to help a student shape himself/herself better.
OSCAR has the following for its caption - A Cornucopia of Triggers; a confluence of ideas!
The logo for OSCAR 2004 would be circulated shortly. OSCAR has been split into 4 verticals - Cultural Extravaganza, Career Guidance Session for IX and X Std Students, Open House Counselling for XI and XII Std students, and Model United Nations Assembly. Cultural Extravaganza - The following events would be held - Manoranjan (Variety entertainment), Grand Quiz, Pot Pourri, Tamil Poetry Writing, Tamil Pot Pourri, Admad, Art Events and JAM. Career Guidance Session - This would be half hour interactive sessions for IX and X Std students. This would be on Friday, August 13. We have identified Resource Persons for the Engineering/Management/Visual Media streams. We are looking for Resource persons for the Medical/Law/ streams. Participating schools could send 10 students to this session. If any of you reading this, and who would be available for the 13th of August, please let me know at vijay_premkumar(at)yahoo.com. Open House Counselling - This would be for XI and XII Std students. Around 30 to 40 Old students would form the Resource Persons for this, which would be a question and answer discussion session between the students and Old students. For more details, please get back to me. If anybody of you would like to be a resource person, please let me know asap. Participating schools could send 10 students to this session.
Model United Nations Assembly - MUNA - Each school represents a country that is a member of the United Nations. They would simulate a UN General Assembly in session, discussing a topic and how the various 'countries' are handling that topic. The work on brochures and covering letters and posters are done. Schools would be despatched the covers soon.

where/who I need to send my contribution to for OSCAR? You could send a cheque for the amount, payable to OSA- RSK, and send it to the School's address, addressing it to OSA RSK, C/O Principal, RSK Higher Secondary School, BHEL Township, Trichy 14.
We shall keep you updated of developments as and when we have more news.

Regards,
Vijay
(Class of 96)

Subject: RSK abroad and mentor networking yahoogroups
June 26, 2004

Unlike in some major schools and colleges of our country, we have not 'networked'. There exist no Fraternity/sorority feeling/actions that binds us together. If a bunch of rskites work in a firm, would they like to network there, may be bring in qualified rskites into the firm, it sounds like nepotism, but its more of building the RSK base wherein as a tighter, bigger group we can do something to our school. For your info our computer lab needs major revamping, they are still using 486 machines there. Our library needs more books. The rskites who graduate and go to some college/company should be guided by a senior rskite there.

Please do not think I am discriminated rskites in India, but its more difficult to bring in rskites who are abroad into a single forum for doing something useful for RSK by contributing generously to a corpus fund (either an existing one, if there is one or to a fund that has to be created). This is also to help rskites who come to USA/other countries for study/work. This, I feel is would be the beginning of the 'networking' I was talking about.

The second, the more important database is the mentor network. This is for rskites who are willing to mentor, counsel present rskites. Nowadays even school kids send emails and browse the web. For the ones who cannot access the Internet, mentors will share their snail mail address with those rskites to write/receive letters. One may offer general counseling (students need them badly as they pass through their teens), advises on specific fields of science or anything.

Now that they are set, I would require u folks to do:
1. Sign up for the mentoring rsk students. This is also for rsk@abroad



2.email/call other rskites who aren't members/who don't read this newsgroup regularly and ask them to do the same.
3.get a parallel offline effort on the go with getting snailmail addresses of other rskites who are willing to help the students.
4.contact the principal/teachers and inform them of this mentor network.
Please any improvements/suggestions to the above ideas ASAP. Its time we become proactive alumnus.

Arvind R (1998)
fermatslittletheorem(at)yahoo.com
Please replace (at) with @ when e-mailing
---
June 19, 2004

I think you all might know about the old students association in school. Last year it was due for OSCAR. But we could not conduct because already EUREKA took place and school couldn't afford to lose two more working days. We thought of conducting some other programs like counseling and medical camps but we could not get green signal from school. But principal promised that he would allow us to conduct OSCAR this year.

We too got permission from the new principal for conducting OSCAR. OSCAR budget comes roughly around 45000. When we recently met a very old student, we heard that most of the old students are not interested in conducting OSCAR. We really want to know whether most of you feel the same. Now we are confused about what we should do. This is mainly because we don't know what is the general opinion of old students. We would like to seek your advice regarding this. Kindly post your opinion as early as possible. These are the following options, which we have. Please give your valuable suggestions about them.

OSCAR

budget – 45000.
Creates opportunity for school students to develop their literary and cultural skills.
The certificates given would be of very much value to them in the future.
The RSK's fame will increase
Feasible only when we get the required funds.
Practical difficulties are more. ie)collecting funds is a big problem from our regular big sponsors like pepsi for the BHEL management is not allowing to get sponsors from them after the great pepsi issue(regarding hygiene) also we are very much lagging in our fund collecting team's strength for it seems very very difficult for us to reach even half of our target. but i will tell u, we the current osa members are putting in our full efforts to make the funds grow (note :old students who think that they may help financially, pls let us know and also pls be sure if u are about to help us for we have to reach a target of 45000 bucks which is not an easy deal as u all might know)

Medical camp

Not much money would be involved
It will be very useful for primary and junior school students
Some medical camps based on ortho, dentistry etc
The doctors called would be old students.

Counseling

Not much money would be involved
Counseling will be given by old students who are well versed in certain fields
Video conferencing can also be arranged so that old students who are in abroad can also counsel

If you have any other suggestions as to what other things can be done by OSA are also welcome. We want to know what you all want us to do in the name of old students association such that the school gets benefited.
Take care
R.Yamini
2002 batch
r_yaminiraj(at)yahoo.com
Please replace (at) with @ when e-mailing

---
Subject: RSK Sports day
July 14, 2004

Hello rskites
The month of july has come and so is the sports day. Last Friday and Saturday Heats and Finals went on. The scores are as follows:
Bosco - 193
Gabriel – 183
Monfort – 173
They are all in just 10 points difference. Hence everybody is very eager to know which house would finally win. This Friday (July 16, 2004) we have our sports day. So lets see who would win.
Oscar preparations are going on a full swing. Thanks for all the old students who are helping us morally as well as financially. Hardly one month is left to go for Oscar 04.

Yours
Yamini

---
Subject: School uniform changed
June 19, 2004

Now our school Boys can also proudly sing "THE GREEN AND WHITE FOREVER". Yes the uniform has been changed for boys. They have to wear Army green pants instead of Khaki. The design of tie has also been changed. There are thin double green strips coming all over white background.

And regarding the culturals our school still keeps its flag fly high. Every year our school bags CAMPOFEZ rolling trophy. In other Inter School competitions also RSK is getting laurels.

Last year in Athletics seven teams entered for State meet. Out of which four teams won medals. One gold, Two silver, One bronze. School football and basketball team entered state meet.
Thanks to Yamini (2002 Batch) for providing this news bulletin

---
Subject: RSK News Bulletin
June 17, 2004

This is to inform you that Bro.Dhanraj, who was our school principal has been promoted as the provincial for the trichy region. Hence new principal by name Bro. Mariannan has taken charge. The school has done extremely well in the board exams with top scorers both in CBSE as well as in state board. It took the fifth place in district level in SUN TV survey.

The new academic year has begun for all including 11th std. The sports day is scheduled in the month of july. Mrs. Evangeline, Mrs. Esmie Davey, Mrs. Seethalakshmi who were working as primary school teachers have got retired on the month of april. Apart from these teachers Mrs. Whelma, Mrs. Krishnaveni, Mrs. Narmada, Mrs. Precilla were the other teachers who got retired last year. On the whole School is improving day by day
Thanks to Yamini (2002 Batch) for providing this news bulletin

---
Subject: Reg - Contributions for OSCAR

It is not correct to generalize about the very old students. Obviously, there will be a generation gap between the very old students and the batches, which have passed out in the last 5-10 years. This must be accepted and strategies worked out to convince the older members to contribute to this cultural festival. Any product has to be marketed and the office bearers of the OSA must take the efforts in this regard. A budget can be prepared and circulated on this forum. A bank account is to be specified for the contributions to be channeled. Details of previous activities can be highlighted to inform the OSA members. Once the event is completed, an audited income/expenditure statement must be prepared and circulated. I am sure that all this only requires a little bit of time and effort from the organizers.

If these activities can be planned in advance, many of us especially those who do not get a chance to come to Trichy, but would like to do something for their alma mater would willingly contribute. This will also pave way for undertaking larger projects and activities and making OSA more vibrant.

P.Sivakumar (Batch of 80)
sivakumar(at)sivshanth.com
Please replace (at) with @ when e-mailing
---
Subject: Ideas for helping RSK school

If you or others have specific ideas or proposals they want to float, please use RSK alumni yahoogroups forum. I have had a couple of ideas at the back of my mind but haven't had the bandwidth to follow through.

1. Endowment of some sort for the faculty in our school to attract the best teachers to the school.
2. Endowment of things that make the school different, say the annual intra-mural sports or cultural competitions.
3. An online career-mentoring forum for graduating students (could be modeled around a similar idea that OSA used to run but in the offline world).
Anyone, who wants to take the lead on any of these or other ideas, let me know and I will support it in any way possible.

Rajesh Srinivasaraghavan rajesh_s(at)sloan.mit.edu
Please replace (at) with @ when e-mailing
---
RSK Chennai Chapter Get-Together - 10th August 2003


August 8, 2003

Hi all,

Invitation for get-together and meeting - OSA -RSK Chennai Chapter
The Alumni & the families of RSK Hr. Sec. School, BHEL, Tiruchirapalli 620014

Dear RSKites in Chennai,
The much looked forward to REUNION of all RSK Alumni in Chennai and thereabouts (Pondy,Ranipet and Vellore etc.) is as follows:
Date :10th August 2003, Sunday
Time :Between 4:00 and 6:00 P.M
Venue: Senate Hall,
Hotel GRAND ORIENT (Tel:28525111)
Near Anand Theater Complex, Mount Road,Chennai

Subscription:
Alumni: Rs 60 per head; Families: Rs 100
Kindly inform other RSKites here and around.
The revered Montfort Bros. of St.Gabriel will be our guests of honour as we reminisce life on campus.

The adhoc committee is :
Mr Alttaf M. Haris(1980)
Phone: 24940402

Dr.P.V.Saravanakumar(1984)
Phone:26289469 Mobile:31012793
Email:ankumar_1967@rediffmail.com

Mrs.Girija Poduval(1973)
Phone:26215448 Mobile:98410 46068
Mr.Jacob Jeremiah(1984)
Mobile:31011100

Mr.Saravanan Dhanabalan(1990)
General Manager/Grand Orient Hotels,
Mobile: 3105 2144
Email:empeegrandorient@vsnl.com

Do come there with sweet memories.

---
August 24, 2002

RSK Old Students Association intra school cultural event
Hi everybody,
I am roshan from 2001 batch. I am presently doing my ug in rect. I am also one of committee members of the old students association for the year 2002-2003. We are planning to conduct an intra school cultural event this year called "FIESTA". So it would be of great help if all the old students can participate and help us financially in making this event this a grand success as this would go a long way in re-building the image of the osa-rsk.

With regards,
roshan (roshan_rsk(at)yahoo.com Please replace (at) with @ when e-mailing)

---
March 3, 2002

RSK Old Students Association Reunion
Hi All,
It gives me immense pleasure in mailing you all about the Reunion that we held at the School...under our own faithful old Banyan tree. There was quite a sizeable crowd of Old Students, although, as has been wont, the Old Old Students were conspicuous by their absence. There were around 100 people (A large number by recent standards!), and the Old Old students were represented by Ravi (Class of 76), Manimozhi('89) and Arunkumar('90). Apart from them, there were 2 from the Class Of 94, 7 members from the Class of 96(mine), 2 from the Class of 97, around 10 from the Class Of 98, around 15 from the Class of 99, close to 20 from 2000, and nearly 40 from the class of 2001!
And would you believe it......there was competition for the post of Secretary!!!! Well, until we managed to change the setup to fit in two secretaries!!!! Thus, the OSA shall now have a general Secretary, and a Cultural Secretary. The teaching community was represented by the Principal, by the Headmistresses from the 3 sectors, Mrs Prema Jayadevan, Mrs Kokila, Mrs Ammukutty, Mrs Felicia, Mrs Welma, Mrs Rani, Mr Sowrirajan, Mr Devarajan, Mr Rex, and Mr Surrendar. This was one of the largest congregation of teachers at a reunion.

The morning started with the Prayer Song, and Principal welcoming us. Then followed the Felicitations for Mr Devarajan and Mr sowrirajan as they retire on superannuation. Both of them gave touching addresses. games were, unlike previous reunions when they were all grouped together, staggered, and made welcome change between reports.
The reports were Annual Report by the Outgoing Secretary, Arun, the Financial report by Outgoing treasurer, Sudha, and the OSCAR Report by Organizing Secretary, Sridhar. The Reunion began with the grand RSKite Balloon burst. Then there was Family Building, Destinations, Dodge Ball, Freeze Dance, and lots of other games..... and they did take us back to the Good old PT period days. Everyone ran.....and my God...it was major fun, especially at the Destinations game. Everyone forgot their ages....and ran and ran and ran...to fetch the prize! With snacks and a good lunch and lots of prizes.... the day went on really well. With the impromptu dances by OSA, and the ultimate Freeze Dance..... the day went on like a few seconds. And before we knew it, it was all over. We shall wait for an official mail from the OSA for details on the office bearers, and the tentative agenda for the year. While I wish all of them a good year ahead, and fun as we had this time around... I can only say one thing to those people who missed out today's fun. Maybe the next time more would be around.... and as usual, it shall be a huge HOPE...for..well, forget it....... So long....

With regards,
Vijay

---
Feb 16, 2002

RSK Old Students Association Reunion
THE REUNION FOR THE YEAR 2002 IS SCHEDULED ON THE FIRST WEEK OF MARCH.
DATE : 03-03-02
TIME : 09:30 Hrs
VENUE : BANYAN TREE STAGE

AGENDA FOR THE DAY:
09:30 Hrs – PRAYER
09:35 Hrs – PRINCIPAL'S NOTE
09:45 Hrs – ICE BREAKERS
10:15 Hrs – CULTURAL PROGRAM
10:45 Hrs – SNACKS
11:00 Hrs – NOMINITION OF NEW OFFICE BEARERS
11:30 Hrs – ONE STEP AHEAD
11:45 Hrs – ACCOUNTS REPORT 2001-02
12:00 Hrs – PARTY GAMES
12:30 Hrs – LUNCH "ALL ARE WELCOME"

SECRETARY : ARUN KUMAR .N
JOINT SECRETARY: SIRAJ .S
TREASURER : SUDHA K.Y.


Arun Kumar
aarun_qumar(at)yahoo.com Please replace (at) with @ when e-mailing

---
September 30, 2001

RSK OSA News
hi folks!!!

it's finally happening out here @ RSK... yes, i am talking about OSCAR 2k+1...
for the ignorant lot, Old Students Celebrating At RSK,is abbreviated as OSCAR...
it's the same old stuff, yes, it's a state level meet, an inter school one,an extravagant culfest blah, blah, blah, etc.,etc. held on OCTOBER 5th and 6th...
this is OSCAR's 2nd edition, the first one was in 1999.
Event Organization -- courtesy: THE BATCH OF 2000, 2001, 1999..
v 've also planned for a mega reunion on those 2 days...
this is an invitation to all u rskites, b there or u might miss the "Reunion of the millennium" (if this much of pepping up, hype and exaggeration can u make u come 2 RSK, then that is what v @ OSA want!!!) come, share ur nostalgic moments with the people @ RSK.
i guess, u might b receiving the ecard very soon...
anything else 2 b conveyed???
if u think so, ur queries r Most Welcome and Most Wanted @ osarsk(at)rediffmail.com Please replace (at) with @ when e-mailing

that's it for now, c'ya,
regards,
Sridhar Namasivayam.J (sridharonline(at)rediffmail.com Please replace (at) with @ when e-mailing)

---
Sep 26, 2001

RSK OSA News
From: "Vijay Navalore"
Subject: Invitation to OSCAR.....


Hi All,
I take great honour in inviting you all to OSCAR 2K+1, a State level, Interschool Cultural Extravaganza, and a Grand Reunion of Old Students at the school on the 5th and 6th of October, 2001.
So, be there as we recreate our school days at OSCAR...truly an event where the Old Students Celebrate At Rsk.....
And, if you want your articles on RSK school life published in the OSCAR souvenir, rush in your entries to vijaykumar_p@infy.com before September 27, 2001. Sorry for this late call....
Regards,
Vijay (vijay_premkumar(at)hotmail.com Please replace (at) with @ when e-mailing)
(Class of 96, and former Secretary, OSA RSK)

---
RSK OSA News
July 27, 2001

RSK OSA News
hi!!!
this mail goes 2 all rskites who r 222 senti about their school ...the OSA based @ Kailasapuram township, has become active once again with the OSCAR 2k++ REACHING OUT TO THE ZENITH... Old Students Celebrating At RSK is abbreviated as OSCAR
OSCAR is basically a cultural event, a 2 day event, supposed to be a state level one with more than 20 events in the fray.It is scheduledto be in the 5th and 6th of October under our very own nostalgic Banyan tree...
It is also planned to have a mega reunion on those 2 days.This is an open invitation to all rskites, make urself free on those 2 days and b there...
The prime motive of this event is to be a fund raiser for OSA RSK.The fund raised out of it, will be subsequently used for organizing events such as Model Entrance Exam, teacher's feast and momentos and in improving the infrastructure of our school.
To make this a reality, we need all your help. Efforts have started for securing the financial part of it by means of sponsorship.Hence if u can secure sponsorship or any solid help with regard to this event, it would be a very healthy prospect for OSA.Do take a sincere effort in this regard , coz it's for our own school.C'mon guys, let's make it happen!!! Spread this message to all rskites u know.
For any queries regarding this mail us at: osarsk(at)rediffmail.com Please replace (at) with @ when e-mailing
Expecting a +ve response from u,

regards,
Sridhar Namasivayam.J (for OSA-RSK)
sridharonline(at)rediffmail.com Please replace (at) with @ when e-mailing


---
May 6, 2001

RSK OSA News
Well, i thought, i can update you with some info regarding OSA-Events at present. Well, we guys are conducting the Model Entrance Exam for +2 students on 7th & 8th of Apr. about 160 students are writing this Exam. We have got some nice sponsorship & the papers for the Exam were set by Eminent profs. of reputed colleges like Rec,Trichy. I guess the farewell for the teachers who are retiring this year were over today. one of our representatives went to the school and handed over the memento. It is pretty unfortunate that Mangala's husband passed away,the time when she herself is retiring from office.

regards,
Sridhar Namasivayam.J (sridharonline(at)rediffmail.com Please replace (at) with @ when e-mailing)


---
May 8, 2001

RSK OSA News Update
The model entrance exam went on very well as expected. 160 students wrote the exam. Regarding the OSCAR-2k+1. it's acronym is Old Students Celebrating At RSK.

Briefly about OSCAR: we have planned for a district level inter school competition, cultural festival & planning to conduct a dozen events which will go on for 2 days. we will update you with all the proceedings over here as it happens. As such we have got the permission from the school administration & they are very enthusiastic about our plans & they have extended their full support. I met the vice principal, and he was like, very encouragive and he assured me that even if he is transferred somewhere, he will see to that the OSCAR event is conducted very smoothly. And one more thing, our princi Mr.John Berchmans is being transferred and it seems like, a new princi will come.

regards,
Sridhar Namasivayam.J (sridharonline(at)usa.net) Please replace (at) with @ when e-mailing


---
March 20, 2001

RSK OSA News
In the Reunion we had on Feb 2001, some new office bearers were nominated.
Their details are as follows,
Secretary : Arun Kumar.N (2k Batch) aarun_qumar@yahoo.com

Joint Secretary : Siraj.S(2k batch) sirajs_14@yahoo.com

Treasurer : Sudha.K.Y(2k batch) chandini-1@usa.net

Vice President : Mrs.Velma Almeida (our primary school teacher)

President : Mr.Ravi (Old Student of RSK ' 65 Batch)

we have planned 2 conduct a Model Entrance Exam for the +2 students, on 7 & 8th of March, and things are goin on smoothly.
we have got good response from Sponsors, and hope things will proceed as expected.

This year 3 of our Staff, are Retiring -
Mr.Jones - Office Staff
Mrs.Mangala Datarajan (Bio Teacher)
Mr.Joseph (PT Sir)

we have planned 2 give them a Memorable Compliment for the service they 've rendered 2 the school for the past 3 decades.
Well, let me tell you about the present set of Office Bearers. They are fully Geared and Pumped Up with lot of "Enthu"...
we have some plans of Reviving a sort of CULFEST called OSCAR 2001, which is scheduled to be in mid July. Please drop in your valuable suggestions and critiscisms.
We will update you with the things as it proceeds.

Bye,
Sridhar Namasivayam.J
sridharonline(at)usa.net Please replace (at) with @ when e-mailing


---
March 10, 2001 - The RSK page moves
The RSK page moves: The RSK website has moved to a new location. http://odin.prohosting.com/rsktri (please note that when you go the old web site it automatically forwards you to the new web site). The new site features many desirables, such as provisions to automatically update and maintain alumni list. We also added a search feature to find alumni easily. Go to WhatIz new page to see all the new alumni entry in the last three months. we hope all of you will find this useful and contribute to maintain an accurate alumni list. Let us know what you think of the new site. Email us.
P. John Thomas and Swaminathan
(webmasters)

---
March 9, 2001

News about the RSK reunion
I (Tapas Banerjee) happened to be one of the conveners of the RSK reunion. RSK reunion took place on Sunday February 11, 2001 at 10:00 AM under the old Banyan Tree. Everything went on quite well but a 36 year school could attract only 83 students and teachers together. Out of 83 students 95% were from '98,'99 and '00 batch. 8 teachers turned up. All of them primary school teachers.
We had lots of fun but with the people present and a heavy, new faces and games. I am sure we did everthing from the invitation side. Hope the new office bearers do a good job.
Tapas Banerjee
(Former Vice Pres.,OSARSK)

---
July 10 2000

Good news first: After many years, RSK returned 100% results in both 10th and 12th standards.
The incidents below are bizzare ! Bro.John Brechmans, the current principal was assaluted at his residence as a result of some squabble over admissions. He had to be hospitalized for a few days. He has recovered now and has resumed duty. The school was indefinitely closed immediately after the incident and was reopened after assurances from the government and the management of BHEL. As it happens, nothing was forthcoming from the powers that be and so all the teachers of trichy went on a token one day fast on friday last.
regards,
P.John Thomas
NEWS UPDATE: 13 June 2000
Three arrested for attacking John Berchmans, headmaster of the R.S.K.
"Tiruchirapalli: Police have arrested three people, including a leader of the ruling DMK led LPF Zunion of the Bharat Heavy Electricals Ltd, in connection with the alleged attack on Fr. John Berchmans, headmaster of the R.S.K. higher secondary school here on Saturday last. The priest alleged that he was assaulted by the former following a dispute over admission of his son in the school." (Times of India, 13 June, 2000)

---
June 08 1999
Mrs SHANTHI P. Rathinam passes away due to kidney failure on 26 - april - 1999 she has served for 21 years of teaching experience.
These are the words she wrote
"I am always content with what happens; for I know that what God chooses is better than what I choose"
Next sad news is the demise of the former principal Bro. P.L.Paul at ercaud he was aged 62 and was principal of the school for 4 years ie 1981-1985 he expired on 29 may 1999
Mrs Getsie chandini is going to america taking leave
Mrs Cissy our music miss has resigned
sanil_sam@hotmail.com

---
May 10 1999
This year Dr Kathirasapandian (DKPN) sir has got his docterate in chemistry and already Rajagopal sir has also got docterate in physics.
The school has 4 sections in state board and 3 sections in central board. Ours is the only school to send students to both state as well as the central board.
Now the principal is bro. john berchamans and bro selvaraj is the provinsional superiors.
Sanil Samuel Class of 1993
---
August 28 1997 : Hazaar new waves this time!
Two guys have got thru' JEE with decent ranks-both joining iitm. The school has plans to change over to state board ,what with the school topper getting only a B-group course in BITS-pilani even with a 472 on 500.
The overall performance of the school this year is better than that of last year-fewer compartmentals,failures.
Anyway the school's strength has shrunk-only 3 sections in 12'th class and hazaar vague things like Raju Sir handling chemistry.
More about it in the next mail. Bye for now.
Praveena.
Class of 96.

---
Science Exhibition Experiences
August 30, 2003

Hello RSKites,
Our school conducted a grand science exhibition for three days.21.08.03 to 23.08.03. The monfortian mission is celebrating its 100th year in India. So Rev.Brother principle has arranged for the exhibition. All the school students are excited. They have exhibited their projects on various fields such as Arts, English, Tamil, French, Sanskrit, Maths, Physics, Chemistry, Biology, History, Geography etc. Other schools in and around trichy are also invited to display their projects.The projects are displayed in both main school and junior school. The school looks great as it is decorated fully. Large paintings, no of pluccards with good sayings,lot of stalls are put on.The school looks really different with full of festive mood.

The science exhibition was superb. I will detail my experiences. The exhibition was called EUREKA 2K3. As I said earlier the exhibition was planned for three days but it was extended to one more day due too overwhelming response.

Inauguration
The inauguration was on Thursday morning. The chief guest was Dr M.Arumugam, director of National Institute of Technology (REC renamed). The Post master general was also there to release stamps of monfortian mission. Apart from these Ms.Sunaina Mandeen(MD,Nexus computers), a old student was the guest of honour. The principal briefed the main reasons of conducting the exhibition. One for the 100th year of monfortian mission and another is that RSK is entering its 40th year.

Inter school projects
The projects were divided into two. Inter school projects and Intra school projects. For the Inter school competition more than 16 schools participated. They had participated in the fields of mathematics, physics, chemistry, biology . There was two categories – 9th and 10th &11th and 12th. The prizes were also given for the best projects on the closing day. All the projects were innovative. The interschool projects were displayed in the monfortian hall,the newly built hall. Don't wonder where it might have been constructed. It is just a reconstruction made on the supw, ncc, commerce classes next to the old biology lab.

Intra school projects
The intra school projects were displayed from 1st std to 12th std. They had three divisions primary school, junior school, main school. They had displayed on all the subjects they have in syllabus including SUPW, arts, languages. It was so nice to see the tiny tots explaining their project.

Highlights
The highlight of the exhibition was the Air show, as they called it. About 13 students of 12th std had made an aircraft under the guidance of an aeronautical engineer. It is about 4 feet in length. It was made to fly by remote control. It had an 2.9 cc engine and a capacity of 280ml. It can fly upto a height of 3000ft. It also had a small camera used to view the birds or the land below. It was a superb show for 20 minutes. It was really appreciable to take such an effort. The next thing was openheart surgery. It was shown by a projector in a classroom. Then they had skeleton dance, puppet show etc to entertain the people coming. They also had food stall put by hotel Sangam and some more stalls were put by sponsors.

The response
The crowd was too large than they expected. On the first day only people around trichy turned up. The next day 34 schools came to see it. About 35000 people came on Friday. On Saturday schools from nagapatinam, tanjore, chengalpattu, lalgudi, karur etc came. People were overflowing. So the school decided to extend for one more day on Sunday.

Valediction
Though it was extended to Sunday the closing ceremony was on Saturday evening. The trichy collector and executive director of BHEL were the chief guests. The collector greatly appreciated the efforts. Our principal briefed all the events and said about what made him think about a science exhibition. When Dr A.P.J. ABDUL KALAM was the president elect (ie) just one week before he became president, he had come to trichy. He was staying in bhel guest house. Our principal met him and asked him to give a lecture to our students. He agreed and gave a 45 minutes speech to our 10th, 11th , 12th. So from that time he wanted to give students an opportunity, which would make them future scientists.

At that time one of our old student Mr B.V.RAMANAN (MD,liviya polymers) also came forward with this idea. He was the main cause for the eureka2k3. He was helping principal an all ways, planning out and everything. Many of our old students around trichy and other districts were generous enough to sponsor for the eureka2k3. Like, students of 1983 sponsored the prizes. It would not have been so successful without their help.

Summary
To sum it all it was a very grand exhibition, which has created history. It has made Rsk to regain its glory. It was the talk of the town for the past one week. All the leading newspapers had published about this with colour photos. All the teachers were working enthusiastically. The whole school was decorated so beautifully. The school was in a festive mood. And it has made me sigh why at all there was no such event in my period.

Take care
Yamini (2002 batch)