Alumni of the 1985
2nd, 3rd and 4th standard class photos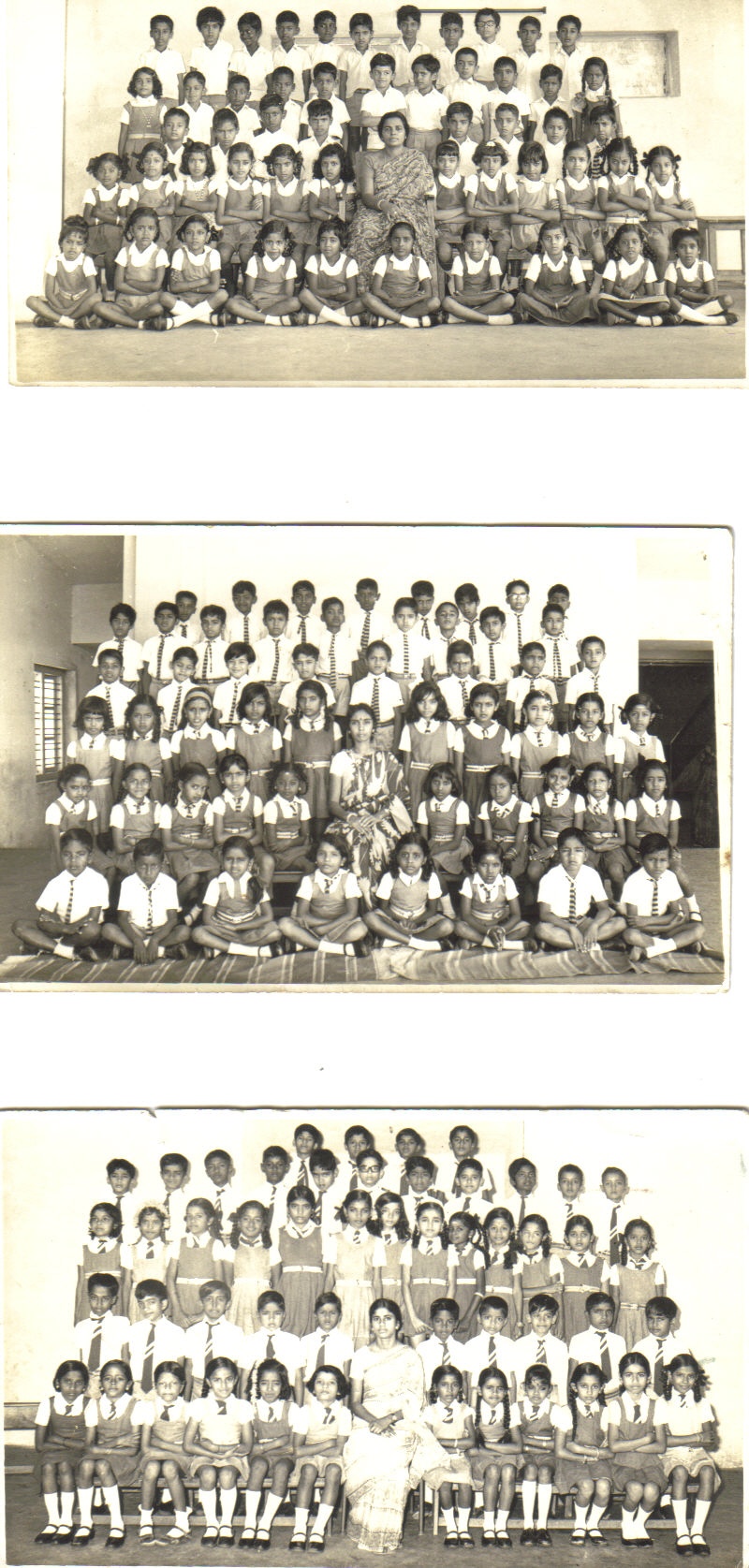 Special Thanks to Venkatesh s for sharing with us these pictures.

RSK Administrator - To update your information or add an new entry to the Class of 1985, Please send your Name, E-mail address, year you finished 12th standard, and description to rsktrichy(at)rskschool.com (replace (at) with @ when emailing)
RSK Web Administrator has turned off auto update and new entry to RSK class of 1985 website because people were misusing the autoupdate

A.francis yagappa farming, thanjavur, URL: http://www.yagappa.com

Achu kantheti Live in Atlanta, US with wife and 2 kids.

Balaji krishnan Working with mindtree consulting, Bangalore, India

Balakirshnan kalyanasundaram dr. Presently Iam an ENT surgeon in west of scotland rotation.It will be nice to here from old friends.I keep in touch with our teachers in school regularly. Bala

Balamurali I am an exporter doing a very big bussiness in coimbatore.Thanks for all my friend from RSK where we all have good foundation for life

Bapu Oncologist, Private Practice, Nacogdoches( place where Columbivegif . Shuttle debris fell) Texas, US. Married with 2 kids Akilesh and Sheetal. If given an opportunity will begin grade 1 at RSK. if gi

Bobby manfred moses Working for Aban Loyd Chiles Offshore Limited as Radio Officer onboard a Drill Ship Frontier Ice.

Chandrakumar.sv contact 9442627389

D Housewife, UK

Dr chandrakumar sv Asst Professor of Ophthalmology Madurai Medical College Madurai Phone 9442627389

Dr. charles victor. a Ministry Of Health - Sultanate Of Oman, RSK- The School which I can never forget.

Dr.s.suresh kumar asst.surgeon govt.hospital,anchal,kollam dist .kerala ph.0475-275923

Francis hi

G. bhanumathy I am an Dental Surgeon having my clinic, Secunderabad. One Son studying in Xth Std,

Ganesh c

Gayathri vasudevan

Giridhara gopalan Asst. Vice President - Maini Group Bangalore

Hema rao

Jayanthi devarajan Hi! I am Jayanthi now in the UK. Mail me if you have any news!!

Jayanthi.d Home maker, UK

K.t.sajee Marketing Manager for a engineering Consulting House in Yanbu/Saudi Arabia

Kalyan krishnan.m Hello there....iam located in Chennai and run my own software consultancy firm.i came to know about the website from my brother Ramesh babu (1986 batch) and iam verrrry happy to be associated with u guys again. Write to me and i promise to write back......Love to all .....KALLU.

Karthikeyan sivasubramanian Working in a software company in Sunnyvale, California

Lakshmi r Working for SIDBI, posted at Coimbatore

Lyju alexander thomas COO, Stabilix (Software - ODC) , Trivandrum, married to Rachel Alex, we have 2 boys - Nikhil (1997) and Noel (2002). Bobby and I are planning (for a long time) to visit RSK

Manoj madhavan Live in Norcross (suburb of Atlanta, US) - wife Ashu , son Nihar (1993) daughter Mihika (1999) - I enjoy keeping in touch with RSKites - esp. my batch

Manoj.d General Manager of a four star hotel in Cochin. 2a,presidency court,chammany road,kaloor,, cochin-682017 ,kerala, india

Murugan HI I am murugan studied upto 7th std.Now working with HINDUSTAN MOTORS CHENNAI

N.rajan I left RSK in 9th std. If anybody remembers me, mail me. Would love to get in touch with batchmates. My father was Mr.Narayanan, Hindi Teacher, RSK

Nandakumar. k.g Hi !, I am now in chennai. Used to be called KG those days.

Nandakumar. kg I used to be called KG! those days. Now I am Working as Branch Manager in EID Parry , at Bellary in Karnataka

Natarajan, g What a pleasant surprise! Echoing a previous comment - would like to start allover @ RSK. Contact and stop by if in the Dallas area

Nisha t .

Prakash arunachalam Currently in the US

Prasad now doing his own business in marketing of engineering products in chennai

Pratima Business Development Director with IBM Business Consulting Services. Settled in Singapore. My Core Values and Foundation have a lot to do with the mentoring and experience gained in RSK

R. nirmala Homemaker, Boise, Idaho USA. I studied at RSK from 1971-77 until my 5th std.

Raghavan s I am working for Siemens Limited , Chennai as Sr.Manager - Marketing; have one son - do contact at 0 99400 70593

Rajashree varma Located in Dubai, working for Microsoft

Rajendra kumar.p.m. I left rsk after completing 9th std. in 1982. I completed engineering and presently employed in Bhilai Steel Plant, of Steel Authority Of India Limited,as Senior Manager. I visit once a year to Trichy as my parents are settled there along with my family. i have one and only son and take him around the BHEL campus and RSK school mentioning about my days in the school. I get emotional and thrilled while narrating him about my school days and the house(BOSCO) i belonged to. I am highly grateful to the teachers who shaped me in the initial stages and made me a beautiful pot. I remember and long to contact P.Sridhar, Venkataraman, anandhi,bhatt ,M.S.Sudha,Senthi Kumar,Swaminathan.

Rama balaraman

Rama sivarajan

Ramakrishnan y.n. Doctor of Veterinary Medicine from Madras, and Doctor of Philosophy from University of Wisconsin, Madison, Currently - Principal Research Scientist in a Biotech company in Raleigh, NC. RSK life was great

Ramalingam.l Great to see all our old pals in the list. Still in touch with Prasad ( drums). Spoke to Isaac and Swami couple of months back. Right now working for a German MNC as General Manager in Dubai. Blessed with a Daughter - Shruti . If you guys have inputs on the foll members pls let me know: Samson Davis , Dyanesh Babu , JeyaGowri

Ramanathan k Settled in Australia and have two boys

Sailesh kumar a.c Have very fond memories of our RSK school, BHEL township, etc

Samson davis Settled in Toronto, Canada..

Senthil kumar VP in IT MNC, Chennai, India. This portal took me in the time machine to my childhood filled with nostalgic moments...Luv to connect.. Great site,.. Good work !!!

Shanthi

Shaw a.m.

Sheeba RN IN lOUISVILLE,KY, USA

Sheeba abraham House wife, K.S.A. ,Dammam, rsk holds a very special place in my heart , our teachers were the best.

Sheela a Living in Michigan(Detroit), U.S, as a happy family with 2 kids, Adeline & Edwin.I always had our school as one of the most cheerful memories, and wished that we all could get to meet back at our class one day! It'll be great to know the different ways of life we all've chosen out of there. URL: http://ss-us.com/sheela

Sherene Hi there............ i would have passed out with you all but i left RSK after my 10th standard. i am sherene g. edwin.( anglo indian.hmm....!!!) remember!!! well i am at trichy and my son jude joel edwin is in class eleven at RSK. I work as a Prof: cum Principal at Jennys college of nursing here. i really would like to get in touch with my class mates. i did my B.Sc Nursing at cmc vellore...masters in nursing here at trichy and pursuing my doctorate now...!!! i cannot forget my school days ......wish they came back. i went to the OSCAR 2010...AND WELL .....ALL i can say is i am proud to be an RSK ITE!!! class mates do get in touch....my mail id is shereneedwin@gmail.com my class mates jeyagowri...vimala......sridhar..........dyanesh babu.........venketaraman...........sailesh..........srirangaprasad.samsondavis..........

Shoba rao Software professional based in Chennai

Sivakumar.n HAI! Every one would ve forgotten me . I left RSK when I was at 8th Std, Class Mate of Charles Victor And Balakrishnan. Currently working as General Manager with Punj Lloyd Ltd

Sridhar p i am in NHS UK as vascular specialist

Sridhar parameswaran Dr. presently in U.K. I guess

Srikanth r Working in Covansys, a software company as Project Director in Chennai (Mobile # 98410-78753). Married, 2 children Arjun and Aarthi. Very good memories of our school days.......

Sriranga prasad Hi,This is Sriranga prasad ,B.E ( Annamalai university) and presently based in hyderabad,running a software company and a onstruction cum real estate company in hyderabad

Subrato majumdar Folks! Drenched in Nostalgia....will be a pleasure to connect

Sudha srikantaswamy

Sugosh v.s.

Sugoshv Would be great to be in touch with friends!!

Surendar, t The Times of India, Mumbai, Business.Features.Editor.

Surender t journalist with The Times of India, (previously with Businessworld), Mumbai,

Suresh kumar r With KBL father of two kids, Jai Ganesh & Jai Karthick; I tour a lot all over India. Look forward to pleasantly meeting some of you soemwhere some day.Ph: 02346223888; 9890860200

Swaminathan erulappan studied from KGI to 9th.settled in vellore and running a BHEL ancillary unit in ranipet

Swaminathan g I am now General Manager in a Software Company in Bangalore (SASKEN). Good to see all of you in the web.

Syed abid hussain Hai this your Syed. we were together until 9th. I am working with ETA- ASCON as Projects Manager and based in Abu Dhabi. My Mobile No for friends 00971 50 4435273

Usha menon shenoy Education after RSK - MBBS from Tanjore Medical College and MD (Anaes) Gandhi Medical College Bhopal - Married and parent to 2 lil girls, Lakshmi and Girija. Based at Trichur, Kerala

V.sugosh working as GM R&D at TVSE Chennai - daughter aged 4

Velupandian guruswamy 2, penmark close ,callands , warrington,cheshire,UK .Tel : 0044 1925 259171. I used to be called amma in school ( for people who have forgotten me).I am presently working in UK.

Velupandian guruswamy Dr. 69, Humber House, Bushey Fields Road, DUDLEY DY1 2LU, U. K. Tel:0044-1384-456111 Ex 2291

Venkataraman ramaprasad

Venkatesh s I studied in RSK between 2nd - 6th Std. Great school. Lots of fun. Currently work as Key Account Manger at DaimlerChrysler in Michigan. Married and with 2 Children

Vijay p. Running a computer H/W business in Madras.

Vijayakanthan d Recently moved to from Windsor, Canada to Troy (a suburb of Detroit), Michigan. Work at GM, Detroit. Father of two, Deeptha and Cibi. Finally realized a dream by running a full Marathon in Oct. 03.


---
Total number of members : 80
Additions ? Changes ? Follow this link. Comments to: rsktrichy